Why PMI Agile Certified Practitioner (PMI-ACP)?
PMI Agile Certified Practitioner (PMI-ACP) is becoming more and more popular. One may wonder, PMI already has the PMP certification and why one more certification! Now a days Project Management and Requirement Management are becoming complex. Customer demands are becoming more dynamic.  Need of the moment is "Agility". Businesses are changing, customer needs are changing and the speed at which change is rolling is a also increasing.  Naturally, agile approach to software development is becoming a necessity in the modern business scenario. PMI has recognized that and come up with a certification specifically for Agile Project Management.
Granted, there are several training and certifications related to agile project management. Then what is so special about PMI Agile Certified Practitioner (PMI-ACP) certification? The key difference is that the PMI-ACP certification verifies and validates your real life project experience along with your knowledge on the agile processes and methodologies. A practical experience of delivering the agile projects is certainly a high end credential. Holding the PMI Agile Certified Practitioner certification formally recognizes that credential.
Who should apply for PMI Agile Certified Practitioner (PMI-ACP) Certification?
If you are aspiring to advance your career in agile project management, PMI-ACP is the right certification for you. You may already have some training and certifications such as Certified Scrum Master. But, the PMI Agile Certified Practitioner certifies you based on your real world project experience and your proven ability to effectively manage agile project. Most other certifications are based on training and exams. Even if you have PMP certification, PMI-ACP certification will give an edge over others in the agile project management area.
PMI-ACP Eligibility Requirements
Secondary degree (high school diploma or global equivalent)
2000 hours of project work experience in past five years
1500 hours of agile project work experience in past three years
Project experience and agile project experience must me mutually exclusive. That is, 1500 hours of agile project experience is in addition to the 2000 hours of project experience
All PMP or PgMP certification holders automatically quality to apply for the PMI-ACP certification as the PMI has already verified their eligibility requirements which exceed the needs of PMI-ACP certification eligibility.
21 Contact Hours Training
Before taking the PMI-ACP certification examination, you must complete 21 Contact Hours of training. This training could be taken any time. But it must be completed before you take the examination. There are multiple ways you can accrue these 21 contact hours. The PMI Handbook lists multiple means to complete these 21 contact hours required for Agile Certified Practitioner exam. If you are taking any university class related to this topic, the portion of the course that deals with agile practices and philosophies can be counted. One hour of class room session is counted as one contact hour.
Now a days there are several  good training available at a reasonable price. There are mixes of online and classroom training also. Some of them are scheduled and others are self-paced. Based on your convenience you can choose the course and earn these 21 contact hours. Please note that self-directed learning such as book reading, learning by watching videos etc. do not qualify as contact hours.
Agile Practitioner PMI-ACP Training by Prepcast is a good training to earn 21 contact hours. The training provider is an R.E.P which also ensures the quality and authenticity of the training.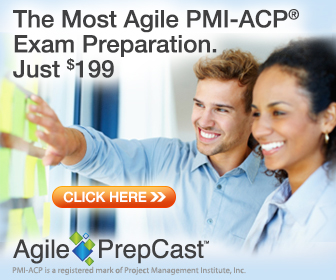 Things to Remember During PMI-ACP Application Process.
Once you start the online application system, you cannot cancel it. But you can save unfinished application and complete it within 90 days of starting the application process( you will get reminders from PMI during this period)
The agile project experiencing you mention must be different from  the general project experience
Online application submission is recommended over paper application submission
Online applications are normally processed within 10 calendar days
PMI-ACP Certification Fees

For PMI members: USD 435.00
For non PMI members: USD 495.00

Your PMI membership must be in good standing to get the discounted rate for the PMI-ACP examination
You can pay the exam fee using credit cards
 PMI Application Audit
PMI picks the applications for audit randomly. So, getting an audit doesn't mean your credentials are invalid. Hence don't panic.
Before making the payment  you will know if your application is picked for audit
If your application is audited you have 90 days to provide the supporting information
The supporting information should include proof of your educational qualification, proof of your project and agile experience with signature from your supervisors/managers, Certificates from the training institute for 21 contact hours training.
You need to send only the copies and originals are not required.
You can send completed audit forms and supporting documents through regular postal mail or express courier service
If selected for audit, you will not be able to progress with the exam process until the audit is cleared.
Once you successfully complete the audit, your one-year examination eligibility period starts
PMI-ACP Exam Details
The PMI-ACP exam has 120 multiple choice questions
You will have total 3 hours to complete the examination
Out of 120 questions 20 questions are pretest questions.  They are randomly placed. Pretest questions are not scored.
There are no breaks in the exam. You may take any break. But the clock will keep ticking.
The PMI-ACP® certification exam is administered in English only
Once you complete the computer based test you will bet a printed copy of your test results.
PMI never discloses the minimum passing score. But it is determined by sound psychometric analysis