PMP 35 Contact Hour training is a prerequisite to apply for the PMP exam. Are you one of the thousands of project management practitioners trying to balance work, life and find time to prepare for the PMP exam? Then, no doubt, you will be in the lookout for a convenient means to get these PMP 35 contact hour training. If you would like to earn these contact hours from the comfort of your home these are some of the options you have online. I have highlighted the key features of these courses and also listed the price. Hope this helps you to make an informed choice.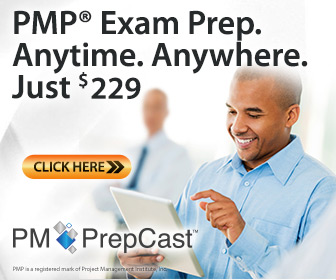 Project Management Prepcast is a popular 35 contact hour training video workshop course for PMP exam preparation. You can download the video content to your favorite media player and study for the PMP exam wherever you are, whenever you want. This provides a lot of flexibility to study for your PMP exam.
With PM Prepcast, you can be exam ready by just watching the videos and listening to the audios. This way you don't have to depend on a lot of books and get confused with different ways of describing the same concepts. Apart from providing you a video based flexible PMP exam preparation course, Prepcast also provides you the PMP 35 contact hour certificate that is needed to apply for the exam.
How will it help you in PMP exam preparation?
Once you purchase Prepcast you have all the flexibility to use it for your exam preparation.
You can simply download the videos and watch them at your convenience and listen to the audio while doing other activities such as driving, work out etc.. No need to travel to attend a class room training.
If you don't prefer downloading, you have an option to sign into a secure gateway and access these videos online and study from there.
Prepcast contains 42 hours of video lessons and 9.5 hours of audio lessons. You can watch them as often as you like to enhance your understanding.
Prepcast uses everyday English to explain the project management concepts and make it easier to understand. It is more important to understand the concepts rather than memorizing the content provided in PMBOK Guide.
Prepcast provides you insights from recent exam takers and helps you benefit from best practices on how to apply, study and pass the exam the first time.
There are many useful PMP Exam Study Tips that will help you get the best bang for the bucks.
How to claim the PMP 35 Contact Hour Certificate?
The Project Management Prepcast is a course that is prepared by OSP International LLC, a Registered Education Provider(REP). This means, the PMI has reviewed and approved them as a project management training provider.
Two weeks after you start studying with Prepcast, you can take an online exam. You can take this exam whenever you want, as many times as you want. Once you pass that exam you will be able to print your PMP 35 contact hour certificate. This certificate can be submitted along with your PMP exam application.
Bonus items you get along with Prepcast
The following items come as bonus, free of cost to you when you purchase Prepcast.
60 tough PMP® sample questions
These are tough sample questions which make you think and apply the concepts you learnt, in answering the questions. These questions come with answers and the explanations also.
10 part email course
This free email course will guide you through the PMP exam preparation and provide clear actions, to-dos and assignments.
PMP exam study check list
Apart from providing a comprehensive checklist, this will also include PMP exam study preparation tips, a list of exam study activities, and lessons on how to boost your studies.
Discussion forum access
This is a collaborative platform to prepare you for the PMP exam with many other PMP aspirants.
This exclusive forum is meant for Prepcast students to interact with each other to share ideas, get their doubts clarified etc
Subscription to PMP exam tips newsletter
You will receive weekly tips about specific PMP exam techniques, guidelines and resources, exam do's and dont's, proper scheduling and time management, and various efficient approaches you can apply.
The Cost of Project Management Prepcast: USD 179.99
Try Before You Buy
The following videos show a preview of what Project Management Prepcast has to offer. This is certainly an opportunity to try before you buy.
[maxbutton id="1″]
=======================================================================================
Simplilearn is a leading provider of the PMP training course that will earn you PMP 35 contact hours needed to apply for the exam. Simplilearn offers both class room as well as online courses for your PMP exam preparation. Their online courses are very popular due their simplicity and unique approach to describing complex concepts.
How Does Simplilearn online course work?
SimplLearn has two levels of PMP online courses. The basic level course and standard level course. Both courses are available online with a certain days of access based on your choice. The courses come with 30/60/90/180 day access for your PMP exam preparation. With Simplilearn, there is no hassle of downloading the course content. Instead you access them online.
This course is best suited for the PMP applicants that are comfortable with self study and want to study at their own pace.
Highlights of Simplilearn PMP online course
Once you purchase the course you get 24×7 access to the online content for the duration you have chosen during the purchase.
The training course comes with 13 full length audio-video chapters in accordance with the PMBOK Guide. It covers all processes and knowledge areas as described in the Project Management Body of Knowledge.
The training course contains quiz at the end of each chapter for self assessment of what you have understood from the course.
The standard course has 4 full-length (200 questions, 4 hours) practice tests included in the course. This will allow you to take mock exams, time and evaluate your performance also.
The standard course comes with weekly 3 live webinar sessions to interact with PMP® instructor. They also provide recorded version after the live session.
You get a downloadable copy of PMP preparation e-book that can be used for offline reference.
Basic v/s Standard PMP online training course
Both Basic and Standard online courses provide you with the PMP 35 contact hours required to appear for the PMP exam. Both flavors come with 30/60/90/180 day access options also. The major differences between basic and standard courses are as follows.
The basic course comes with 1 full-length (200 questions, 4 hours) practice test where as the standard course comes with 4 full-length (200 questions, 4 hours) practice tests.
The standard course offers Weekly 3 live webinar sessions and basic course doesn't come with any webinars
How to claim the PMP 35 Contact Hour Certificate?
Simplilearn is a Registered Education Provider(REP). This means they are officially recognized as a project management training provider by the PMI. Upon completing the online course you will receive you PMP 35 Contact Hour Certificate from Simplilearn via email.
Simplilern online training price structure
Basic Course:
30 Days Course Access USD 59.99
60 Days Course Access USD 89.99
90 Days Course Access USD 124.99
180 Days Course Access USD 189.99
Standard Course:
30 Days Course Access USD 124.99
60 Days Course Access USD 159.99
90 Days Course Access USD 184.99
180 Days Course Access USD 264.99
 
[maxbutton id="2″]
=======================================================================================

Highlights of the 35 Contact Hour Training:
40 hours of project management education: videos, activities, and exams
Complete Course on MP3
All of the course lecture in MP3 format to and learn on the go
PMP Cheat Sheets, worksheets, handouts
Excel worksheets to help memorize formulas for earned value management, variances, time value of money, and more
Course workbook – the entire course slides, PMBOK references, and handouts – over 500 pages
Hundreds of PMP practice questions
Exercises to test and practice what you've learned
Certificate of Completion
Cost: USD 199.00
Click here to know more about instructing.com PMP boot camp online
=======================================================================================

Highlights of this 35 Contact Hour Training:
The course is from a PMI R.E.P
PMP 35 Contact Hours certificate
3-step winning approach: Explore. Connect. Master
Comes with a self study guide
Course includes Karma™ PMP Exam simulation software
950 practice questions & answers
chapter by chapter virtual coach tips
100+ pages of eNotes
Online expert help
Updated for 2011 PMP exam changes
The course package includes

90 days unlimited 24/7 hours access
Online HelpDesk

Cost: USD 245.00 ( Now on sale for USD 225.00)
Click here to know more about PM Campus PMP Exam Prep Course
=======================================================================================
Highlights:
Over 35 Hours of Interactive Lessons and Material
PMP Earned Value Management (EVM) Exercises
Printable PMP Process Maps
Full PMP Mock Exam and Knowledge Quizzes Included
PMP Formula Cheat Sheet
Course Progress Checklist to Successfully Register with PMI
Project Plan "Pyramid" Study Aid
Includes 65+ Interactive Course Lessons
35 PMI Contact Hours
PMBOK Exercises
Cost: USD 299.00
Click here to know more about PMPerfect PMP Bootcamp
=======================================================================================